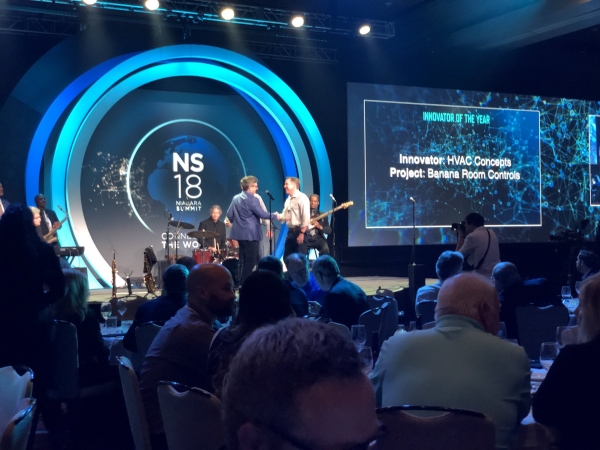 Tridium announces Best New Product and Innovator of the Year award winners at the 2018 Niagara Summit
Tyrrell Products awarded Best New Product for Echo Driver for Niagara and HVAC Concepts named Innovator of the Year for the Banana Room Controls Project
At the closing reception for the 2018 Niagara Summit in New Orleans, Tridium president and general manager, Jim Bland, announced the winners for the Best New Product and Innovator of the Year awards.
Tyrrell Products' new Echo Driver for Niagara claimed the "Best New Product" award – a category featuring products that interface with or are built on the Niagara Framework. HVAC Concepts was named Innovator of the Year for its creative use of Niagara for the Banana Room Controls project.
Echo Driver for Niagara integrates Amazon's Alexa, an intelligent personal assistant with voice processing technology, with Niagara, allowing access to any Niagara-based automation system through voice. Through voice commands, users can switch devices on or off, control the temperature, open and close blinds and much more.
HVAC Concepts gave a major fresh produce warehousing and distribution company real-time visibility and tighter control to the fruit ripening process. Using the Niagara Framework, they were able to control the level of ethylene gas and ripening room temperatures with absolute precision, allowing them to deliver bananas to grocery stores that are as ripe as if they'd just been picked from the tree.
"Echo Driver for Niagara and the Banana Room Controls project are exemplary of the kind of divergent thinking and creative problem solving that's possible with Niagara," said Tridium President and General Manager Jim Bland. "The value of Niagara is in the innovation of our community. Without companies like Tyrrell Products and HVAC Concepts exploring the frontier of what's possible with Niagara, we wouldn't have the global business that we do. These awards recognize that tremendous contribution."
Nominations for the award were open to any product or innovation introduced since the previous Niagara Summit, held in 2016.
Finalists for the awards were chosen from submissions to Tridium and selected by an advisory panel of Niagara community members and industry experts. The winning entries were chosen by the Niagara community through a voting system housed in the Niagara Summit event app. Additional finalists for the awards included:
Innovator of the Year
Africa Health Institute
energyIQ
Facility Solutions Group (FSG)
Northstate Technology Solutions
Best New Product
Lynxspring
Conserve It Pty Ltd
Cochrane Supply and Engineering
Activelogix, LLC
The biennial Niagara Summit was held April 15-17 at the Hyatt Regency New Orleans. You may find more information about the Summit at www.NiagaraSummit.com and by following @TridiumInc.